Jostens will be at the high school on this Thursday, Oct. 6, at noon to talk to seniors about ordering cap, gown, announcements and invitations to graduation. Sophomores can get information on purchasing class rings, as well.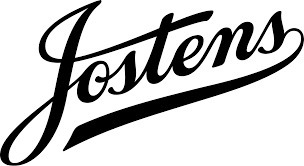 Junior and Seniors who are interested in learning more about possible jobs in the health care field are invited to attend a Health Occupations Expo on Friday, November 4th in Buckhannon, WV. If you want to attend, you must have an endorsement by a teacher who can attest to your interest for working in a health care field, and you must be passing and caught up in all your classes. Permission forms must be returned to Mr. Reed no later than October 26th. No Permission forms will be accepted after Wednesday, October 26th. We will be stopping at a fast-food restaurant following the Expo for lunch. A food allowance will be provided, but anyone wanting any extra snacks or drinks will need to bring money to pay for such items.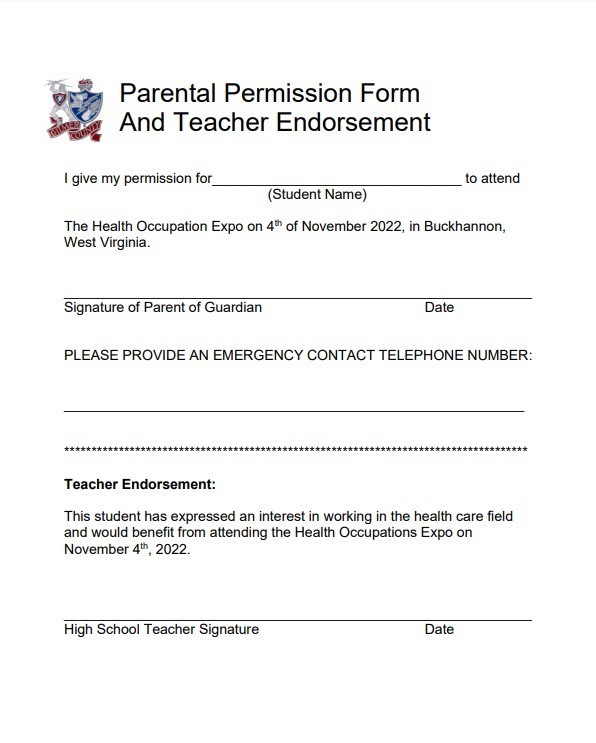 Gilmer County Schools and invites you to participate in Family Cyber Safety Night, a free live-stream event for all K-8th grade families. You'll team up with your child(ren) to learn important cyber safety concepts, such as how to build strong passwords and guard against phishing scams. Then you'll create your own Family Cyber Safety Plan to protect your family online. Sign up to attend at bit.ly/CyberFamily22. You'll love it, and help inspire your children to be safe online!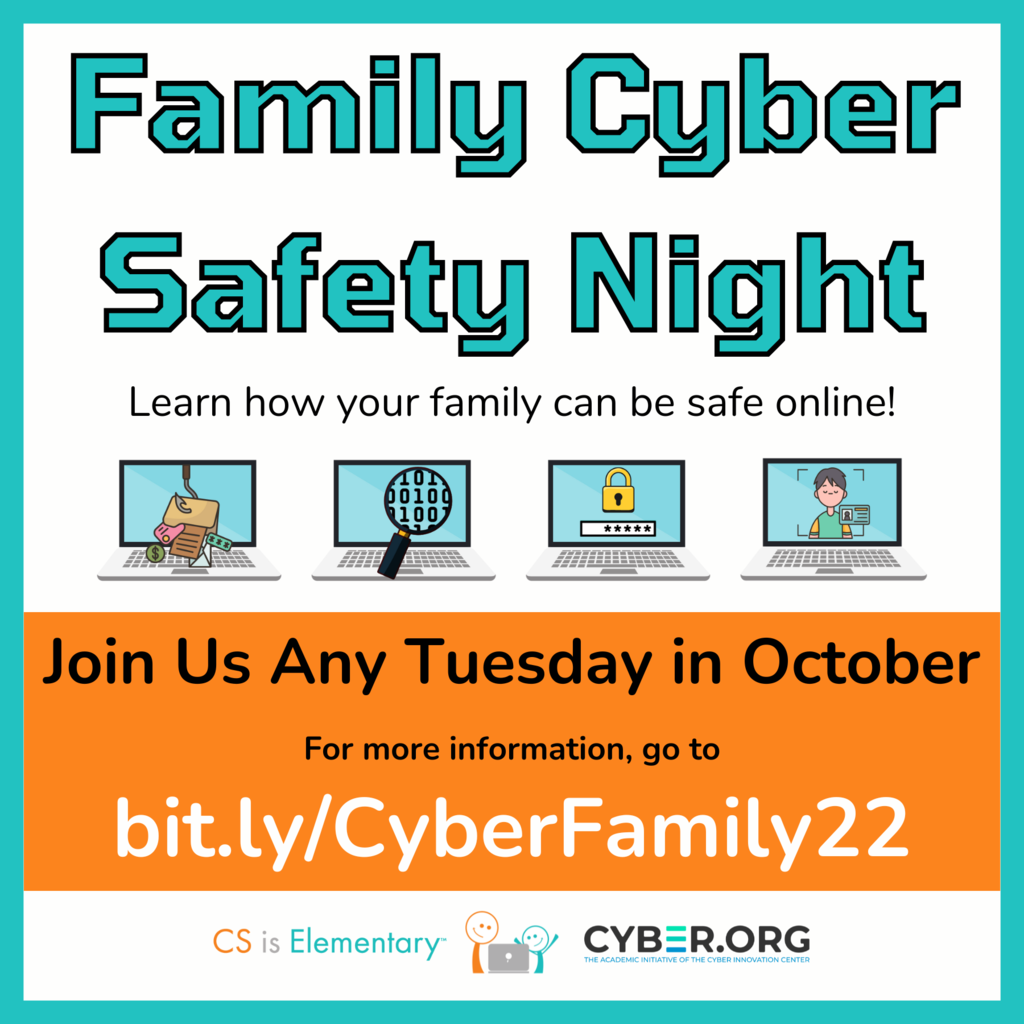 Homecoming festivities are in full swing at Gilmer County High School. Show your school spirit and participate in the planned activities throughout the week.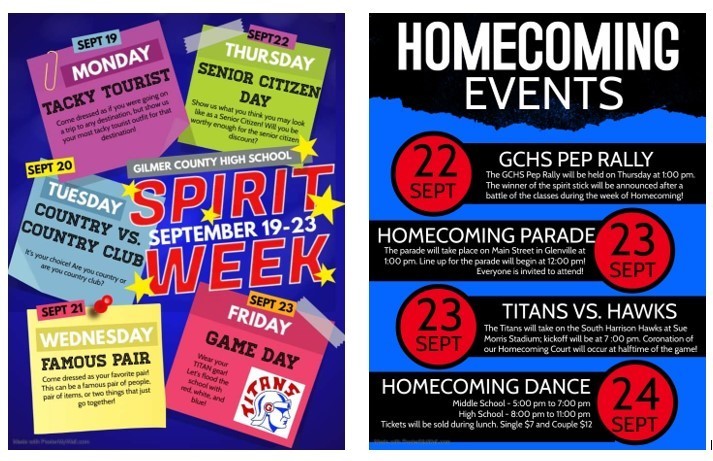 Students who took the West Virginia General Summative Assessment or SAT School Day in spring 2022 will receive an email at their K12 student email account by Friday, September 16. The email will contain a link to an individual student video score report. Please have your child check his or her student email account for the link. Simply click on the link and enter your child's date of birth to access the video score report customized specifically for your child. Be sure to check out the links to resources that are also provided. A paper copy of this information will be mailed out by Friday to all parents/guardians in addition to the email. If you have any difficulty accessing the report, please contact your child's teacher or Traci DeWall at 304-462-7386 Ext. 105 or
tdewall@k12.wv.us
School Lunch Menu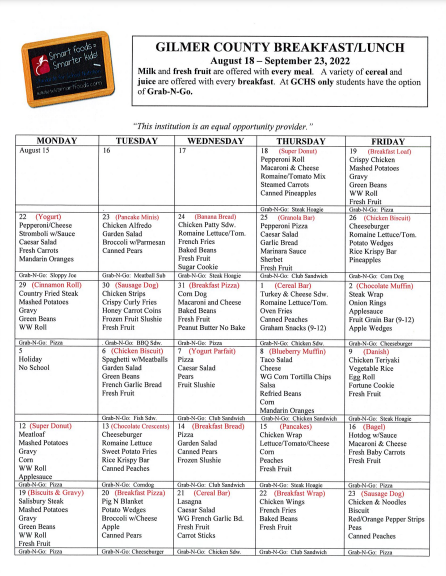 Gilmer County Titans kick off the 2022 Season with the Collins-Metz Memorial LKC Scramble. The Titans came in 2nd out of 12 teams with a score of 10 under, losing out to last season's state champs. The team consisted of Seth Stewart, Mya Hough, Braylon Mencer, and Austin Stewart​.  Good Luck to Coach Wolfe and his team this year!
Gilmer County High School will welcome students back to school on August 18 this year. We have had several calls and messages about enrolling new students. New student enrollment will be held on August 3 & 4, 2022 from 9:00 am - 3:00 pm. Please see the attached image for further details. We look forward to seeing everyone soon!
The locker sign up for high school students that was scheduled for Aug. 11th is cancelled. All students will be assigned a locker at no charge. Combinations will be given out the first day of school.
Sports Physicals available at Gilmer Elementary School Based Health.

High school students may buy lockers on Aug. 11 from 2 p.m. to 6 p.m. at the east end of the building. Rent is $5 and all high school students MUST have a locker partner. Middle school students will be assigned lockers by their homeroom teachers at the beginning of school.
Reminder: There will be no summer school on Mon., June 20.

Summer School Begins Tomorrow! Bus information and the summer menu can be found on our app and webpage!
AFFORDABLE CONNECTIVITY PROGRAM Did you know that a Federal Communications Commission program has launched a program to help provide monthly discounts on internet service for qualifying households and a one device discount on a laptop, tablet, or desktop computer? To check eligibility and apply, please click the attached document or visit
https://affordableconnectivity.gov/
.
Calhoun-Gilmer Career Center is offering free camps in our Simulated Workplaces for Gilmer County students grades 6-12. Lunch will be provided, but students will need transportation to and from the Career Center. If you have any questions, call 304-354-6151. Link for registration form is below:
https://kphares.wufoo.com/forms/cgcc-summer-camp-registration/

Minnie Hamilton School Based Health is doing sports physicals for the 2022-23 school year. Today and tomorrow, at the high school, there will be no copay charged. This was announced earlier and is just a reminder. The link for the WVSSAC student athletic form is below.
https://www.wvssac.org/form-downloads/
Scroll down towards the bottom of the page and click on "Student Athletic Physical Form" to print a copy. Copies are also available at the school office, and must be completed and signed before physicals will be given.
Driver Eligibility Updates
The Calhoun/Gilmer culinary team, Coyote Beautiful, recently participated in the National ProStart Invitational in Washington D.C. this past weekend. Congratulations to GCHS Senior Alex White and his culinary team for placing 14th at the Invitational!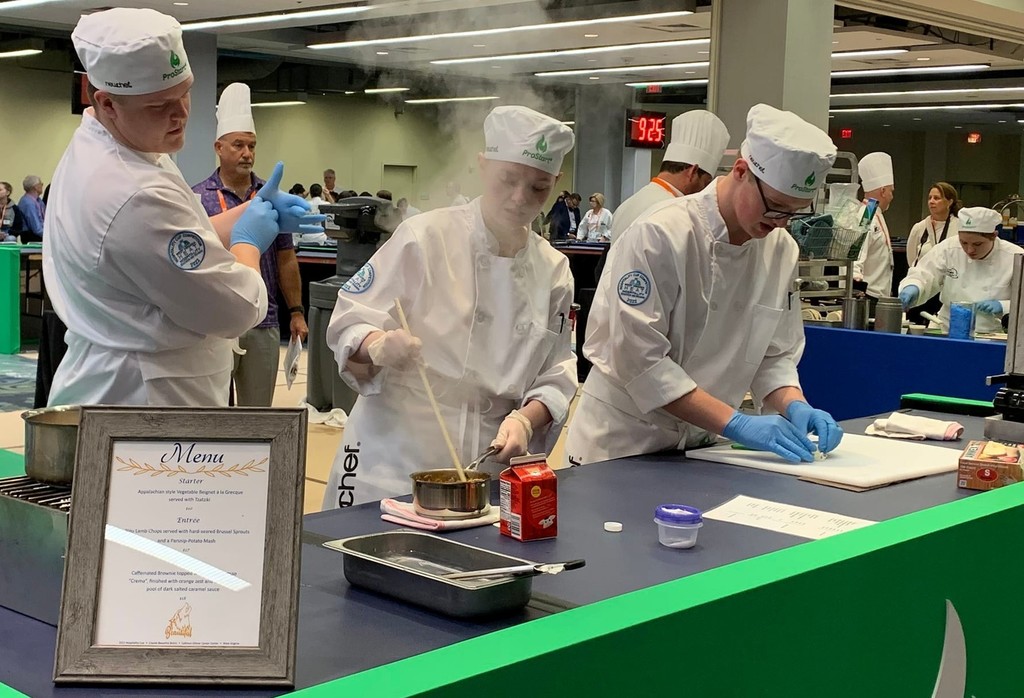 Congratulations to the 2022 inductees to the Gilmer County High School chapter of the National Honor Society. Inductees include: Katie Anderson, Vanessa Bill, David Brannon, Alex Conrad (not pictured), Carrah Ferguson, Daisy Snyder, Adam Stewart, Emma Taylor, McKinzie White, and Sarah Yoder.
Minnie Hamilton School-Based Health will be doing sports physicals at Gilmer County High School on May 17th and 18th for high school students. Sports physicals are available at Gilmer County Elementary School June 27th – July 1st and July 25th – July 29th for all Gilmer County Students through the school-based health program. Copays will be waived for physicals completed during the pre-scheduled clinic times. Take current WVSSAC Physical Form to the appointment with you that has been filled out by your parent. To schedule an appointment, please call Minnie Hamilton @ 304-462-7322.